Here's one way to beat the Chicago chill this weekend...one that'll take you about 5 minutes to organize.

He pulls a fast one, you keep thinking logically.

He tries to place obstacles in your path, your team works as one to overcome them.
That's the Chicago way...and that's how you beat Mr. Fox.
Confused?
Wondering what this version of Jim Malone's speech has to do with spending the weekend in Chicago?
Read on…
Normally, of course, things to do in Chicago on a weekend would not be a list you'd be able to find the end of - any time soon - but…
Lately, it's been cold outside…
And that puts a dampener on things.
In fact, Chicago's cold weather had spawned a Twitter hashtag of its own - #Chiberia - and people were announcing plans to vacation in Iceland (which at one point seemed to be warmer than Chicago) to escape the cold.
As you would expect, going out at the weekend starts to lose its charm; and staying home, binging Netflix or playing scrabble starts to seem inevitable.
So, is staying indoors in Chicago over the weekend inevitable?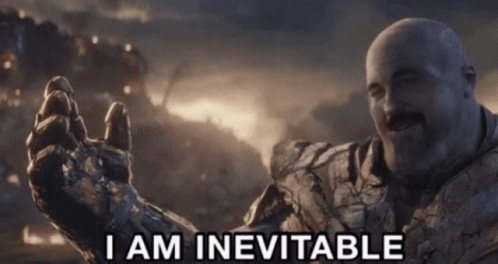 Gif courtesy tenor.com.
Well, Thanos said he was inevitable.

And look what happened to him about 5 minutes after he said that.
Where there's a will, there's a way.
Welcome to Chicago's premier escape room…
Escape rooms happen to be the new thing to do...on the weekend, for organizing birthday parties, on special days like Christmas...you name it.
A shared activity suitable for everyone - from age eight to age eighty and above - an escape room is the ideal Chicago getaway for the weekend.
Why an escape room? What makes it so good as a weekend activity in Chicago?
It's an indoor activity
While there's plenty of excitement, and scope for 'dab' and 'aha!' moments, the entire activity is indoors, which is ideal, given the current conditions.
It's a shared experience
The games here at Fox in a Box are designed so as to encourage participation from everyone.
Whether it's by spotting a clue, devising an innovative way to accomplish a task, or simply by encouraging others, there's scope - and incentive - for every single person in the group to take part in the escape game.
It's easily organized
Setting up an escape room event for the weekend is as easy as 1-2-3.
Count how many people are in your group.

Select a date and time you all can get together.

Go to the booking page and reserve your slot!
Will this escape room event be just fun and games, or is there something more to it?
Well, there are a few levels at which an escape room can be appreciated.
An escape from the chillier days of our lives
It's not just a meetup of people.
By placing the players in a dramatic situation - whether it's to pull off a bank heist, or to abort a nuclear weapons launch, within one hour - an escape room makes everyone a stakeholder in the activity -- and those stakes are high!
This creates a setting for heartfelt participation from everyone in the group, which can make for some heartwarming moments, especially in these times with disjointed societies and families.
In more ways than one, it can be an escape from the chillier days of our lives.
Honing those critical skills - logical thinking and team building
This is where we go back to the escape room version of the Chicago way speech that we started with.
Image courtesy imgflip.com

Escape rooms are widely known to sharpen two very critical qualities in players
With the help of theater-grade immersion (one of the rooms here at Fox in a Box has props brought in from Eastern Europe), dramatic storylines, and by setting them against the clock, an escape room gives players a powerful incentive to think logically and apply their fullest abilities to overcome the obstacles in their path, and achieve their objective.
And our rooms have been designed to demand that contribution from every member of the team is both required and respected, setting the stage for an effective team building activity.
To recap, a weekend meetup at Chicago's premier escape room
Is easily organized

Beats the chill (or heat) outside, making it suitable for any time of the year

Bring people together in a way few other activities can

Develops the critical skills of logical thinking and teamwork
Is there really any competition for how to spend the weekend in Chicago?
BLOGS